Chief Executive, VRA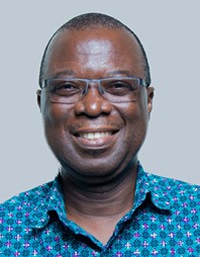 A Civil Engineer by profession, Mr. Emmanuel Antwi-Darkwa, commenced his career with the Volta River Authority (VRA) in 1985 and served in various capacities until the year 2002, when he took up an appointment at the Ministry of Energy as Director of Power (secondment) until 2009. He resigned from the VRA in 2012, and went into private engineering consultancy practice until his appointment as Chief Executive.
With over thirty years of extensive experience in the energy industry, Mr. Antwi-Darkwa has detailed knowledge in the functional and regulatory influences in Ghana's energy sector, and the dynamics of international power systems development.
He possesses expertise in strategic planning, policy formulation and evaluation, contract negotiations, as well as the development of several multi-disciplinary power projects including the 400 MW Bui hydroelectric power project, and the expansion of the 220MW Takoradi Thermal Power Plant by an additional 110MW among others.
He served on the Technical Committee of the Government Negotiating Team on the VALCO Agreements and was a Lead Member for the Government Negotiating Team for the Bui Project.
Mr. Emmanuel Antwi-Darkwa is also experienced in the development and operation of the oil & gas business including design and evaluation of international oil & gas transactions, as well as an extensive knowledge of the various contractual arrangements in the oil & gas sector, including resource sharing arrangements, taxation, and the evaluation of oil & gas infrastructure projects.
Mr. Antwi-Darkwa holds a Master of Business Administration (MBA) in International Oil & Gas Management, University of Dundee, UK, a Master of Public Administration (MPA) from Harvard University, USA, as well as a Bachelor of Science (Hons) Civil Engineering from the Kwame Nkrumah University of Science and Technology, Ghana.
He is a member of several professional bodies including the Ghana Institution of Engineers (GHIE), International Hydropower Association (IHA), Society of Petroleum Engineers (SPE), and the Association of International Petroleum Negotiators (AIPN).  He also serves on the Editorial Advisory Board of Hydro Review Worldwide, an international professional magazine on hydropower development.
Mr. Antwi-Darkwa is a recipient of many recognised awards including the 2018, 'Energy Personality of the Year'.
The Chartered Institute of Supply Chain Management, Ghana, in 2019, recognising his valuable contributions to the improvement of supply chain management and sound leadership within the engineering sector, inducted him as an Honorary Fellow.